Colorado's Rocky Mountain landscape is incredible year-round, but there's something special about the state's mountains and valleys when blanketed in fresh snow.
Despite being home to the world's best skiing, you don't have to be a downhill skier to enjoy Colorado winters. Colorado winter activities go well beyond the ski slopes.
From snowshoeing to ice climbing, fat biking to cross-country skiing, there's something for everyone. You can even ride on a dog sled, take a snow coach to a high-altitude eatery, or soak in a natural, bubbling hot spring.
Even if you do find yourself staying at a ski resort for the weekend, you may want to take a day off the slopes and try something new.
Below are 10 of the best winter-weather activities around Colorado that offer fun for the whole family.
1. SNOWSHOE TO A HUT AND SPEND THE NIGHT IN THE WILDERNESS
Getting to a mountain hut in the middle of the wilderness doesn't have to mean a strenuous, all-day pursuit.
Located less than a mile from the Tennessee Pass Trailhead along the Colorado Trail near Leadville, Point Breeze Cabin is a breeze to get to — even if you're pulling kids along on a sled.
This privately-owned hut sleeps 8, and comes equipped with a solar refrigerator, solar lights, wood-burning stove, basic kitchen supplies, and an outdoor grill. It's an ideal spot for families, considering it's also supplied with a portable crib, high chair, and a nearby fort and tipi for kids to explore.
15 miles of cross-country and beginner snowshoe trails surround this single-story cabin. Summer visitors will find excellent mountain biking and hiking along the Colorado Trail.
The Point Breeze Cabin is available for rent year-round via the 10th Mountain Division Association website. There's no motorized access available to the cabin, and although it's a relatively short and flat hike to get there, the cabin is located at 10,500 feet. That means altitude sickness and inclement weather is always a possibility.
2. SAIL DOWN THE SINGLE TRACK ON A FAT BIKE IN CRESTED BUTTE
Get a taste of what this world-class mountain biking destination is about by hopping on a fat bike and cruising along one of Crested Butte's many groomed winter trails.
Fat biking has turned mountain biking into a full-on winter sport, and Crested Butte is the place to try it.
Several outdoor shops rent fat bikes in town and free trails maintained by Crested Butte Mountain Bike Association and the Crested Butte Nordic Center are scattered throughout town.
Beginners will find easy, rolling terrain at Town Ranch and along the Recreation Path. Intermediate and advanced riders will find plenty of challenging terrain at Gothic Road and the North Village on Snodgrass Mountain. Crested Butte Nordic grooms nearly 10 kilometers of trails that are open to fat biking and free to use. Crested Butte Nordic's website for a list of maintained trails and local shops where you can rent a fat bike.
3. WANDER THROUGH ONE OF THE WORLD'S MOST STUNNING ICE FORTRESSES
Colorado is home to several ice castles, but the most stunning by far is in Dillon. Each winter, an incredible wonderland of tunnels, towers, and flowing fountains of ice are constructed from over 25 million pounds of ice.
The ice slides are the most popular feature, and aren't only fun for kids. At night, the ice fortress is lit up with an ever-changing display of colorful LED lights.
The Dillon Ice Castles typically open around Christmas and are open thru early March depending on the weather. The ice castles make for a fun day trip from Denver or great evening activity if you're staying nearby in Dillon, Breckenridge, or the Vail area.
Just be sure to bundle up when you visit, as you'll literally be wandering through walls of ice, which are very chilly!
4. LEARN TO CLIMB ICE IN OURAY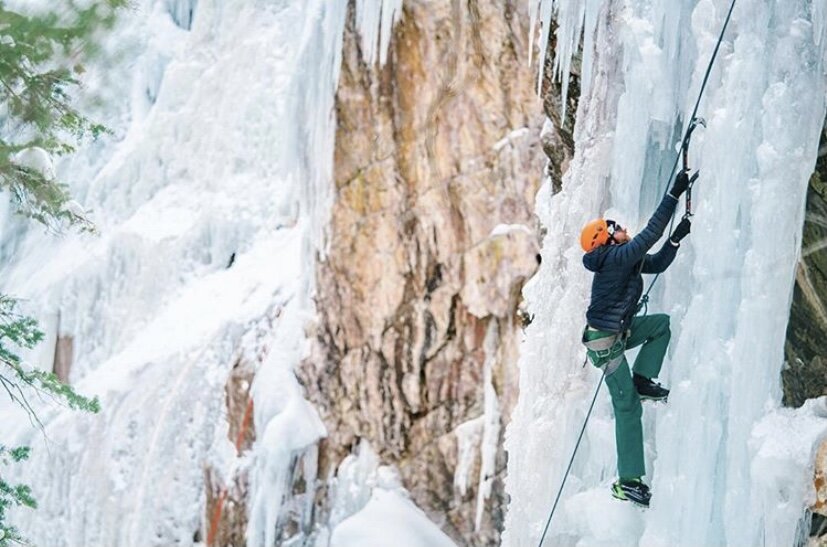 Located in the small mountain town of Ouray, just about an hour from Telluride, is the world's first and largest manmade ice climbing park.
Beginning in November, ice farmers douse the canyon walls of the Uncompahgre Gorge with water via a vast network of pipes and sprinklers, and then shape the forming ice into over a hundred climbing routes.
The Ouray Ice Park has become a major destination for ice climbers from around the world and a great place for beginners to learn how to climb ice. You can hire an experienced local guide or attend one of the many beginner clinics offered throughout the winter to learn how to ice climb here.
Every January, the park hosts a huge festival with competitions, clinics for all ability levels, and plenty of evening entertainment. Even if you have zero interest in learning to ice climb, the park is still a sight to see.
5. TAKE A SNOW COACH RIDE TO THE HIGHEST ELEVATION FINE-DINING RESTAURANT IN NORTH AMERICA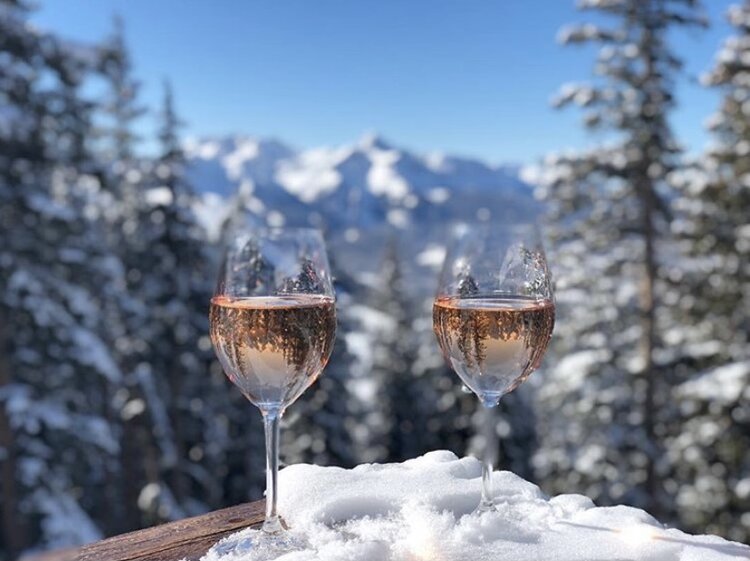 Sitting at 11,966 feet, Telluride's Alpino Vino is the highest fine-dining establishment in North America. This quaint yet exclusive European-style hut serves up Italian Alpine comfort food with gorgeous views of the Wilson Range.
If you're going for lunch, Alpino Vino is accessible from the See Forever ski run via the Gold Hill Express (Lift 14) at Telluride Ski Resort. Reservations aren't required for lunch and items are available a la carte.
Dinner is a completely different experience. Reservations are required, and sometimes need to be made weeks in advance. Diners will take the gondola up to Allred's Restaurant and then hop on a heated large snow coach for a stunning ride up Alpino Vino.
Alpino Vino's outdoor patio is a fantastic spot to enjoy the sunset and enjoy a glass of wine before diving into their five-course dinner menu.
6. WHIZ THROUGH THE WINTRY ALPINE FORESTS ON A DOG SLED
If you're passing through the Monarch Pass area and you love dogs, you won't want to miss visiting the friendly pack at Monarch Dog Sled Rides.
You'll get to meet the dogs, learn about the sport of mushing and how to harness the dogs (you can harness one on your own if you'd like), and then take a 30-minute dogsled through the national forest.
Sleds can only handle 2- 4 people, so you're ensured a unique and private experience. If you're lucky, you'll even have the chance to drive the sled yourself.
Reservations are required and you'll want to make sure to bring plenty of warm clothes!
7. RELAX IN MINERAL-RICH WATERS AT AVALANCHE RANCH
Tucked into the Crystal River Valley under the splendor of Mt. Sopris, this intimate hot springs resort has been warming weary souls since just 2010.
Naturally-occurring, mineral-rich hot springs were known to exist on the east side of the Crystal River. Avalanche Ranch took a gamble and drilled into the west side of the river looking for a hot water source. Luckily, they hit geothermal gold!
Avalanche Ranch features 3 natural hot springs pools, as well as offers several cozy log cabin rentals. Each pool cascades into the next, and offers a bit of privacy from the other pools. The largest pool is fed by a 3-foot waterfall cascading over a natural rock grotto.
Lodging guests are welcome to use the pools at any time free of charge but, day visitors must make a reservation. 
8. JOIN A RANGER-LED SNOWSHOE TOUR IN ROCKY MOUNTAIN NATIONAL PARK
Rocky Mountain National Park's Moraine Park Campground is open year-round, making it a wonderful destination for winter campers. Snowshoeing and cross-country skiing are popular activities in the park, and free ranger-led snowshoe tours are available January through early March.
Tours are suitable for beginners, and you'll learn quite a bit about the ecology of the park. Participants must provide their own snowshoes, but rentals are available in nearby Estes Park. Full moon snowshoe hikes are also offered in January, February, and March.
Reservations are required for snowshoe tours and group size is limited to 6 participants.
9. LEARN HOW TO BACKCOUNTRY SKI AT SNOW MOUNTAIN RANCH IN WINTER PARK
Downhill skiing in Colorado can be a bit pricey. But for less than the cost of a lift ticket, you can enjoy a full day of backcountry skiing at the Snow Mountain Ranch.
The Snow Mountain Ranch in Winter Park is run by the YMCA of the Rockies, and offers some of the best deals in Colorado.
Several times a year, Snow Mountain Ranch offers an intro to backcountry skiing course. The course includes backcountry ski and boot rentals, all avalanche safety gear, and lunch.
Most of the class will be spent skiing in the backcountry, while also learning the basics of avalanche safety. This course is perfect for those wanting to learn how to backcountry ski, but don't necessarily know how to safely get started.
In addition to ski lessons, Snow Mountain Ranch also has a tubing hill, ice-skating rink, over 70 miles of groomed cross-country ski trails, and free snowshoe tours. You'll also find plenty of places to stay, from cabins that accommodate anywhere from 5 to 12 people, lodge rooms, and yurt rentals.
10. JOURNEY UNDER THE STARS ON A HORSE-DRAWN SLEIGH IN STEAMBOAT SPRINGS
Saddleback Ranch is a family-owned working cattle ranch just west of Steamboat Springs. The ranch offers 30-minute sleigh rides to the Double Dollar Lounge, where you'll be greeted with some hot chocolate or warm apple cider before sitting down to a home-cooked meal.
After dinner, their cowboys will teach you some roping skills and kickstart the dancing. You can also combine an hour and a half of tubing on Saddleback Ranch's Yee Haw Tubing Hill, with a sleigh ride and dinner.
Winter horseback riding and snowmobile tours are also offered at the ranch.
TIPS FOR STAYING WARM WHILE WINTER CAMPING
Winter is a wonderful time to play, explore, and camp in Colorado — if you come prepared for below freezing temps.
Check out our tips for cold-weather camping for ideas on how to stay toasty warm all night long, even in the wildest of winter weather >