At Overland Discovery, we don't believe that outdoor adventures have to end when winter rolls around. In fact, we advocate for exploring and enjoying the outdoors year-round.
When it comes to safely enjoy yourself outside during the winter months, preparation is very important. Winter storms create a higher risk of car accidents, hypothermia, and frostbite due to the bitter cold temperatures and wind chills. With strong winds, freezing rain or sleet, heavy snowfall, and dangerously cold temperatures, it's important to know how to stay safe in winter conditions, especially when camping. 
Camping in a campervan, compact RV, or overland camper means you already have one of the most important elements of survival covered: shelter. 
But for any other emergencies that could happen, we've gathered tips and resources to help you safely navigate cold-weather camping emergencies that could happen this winter.
WATCH THE WEATHER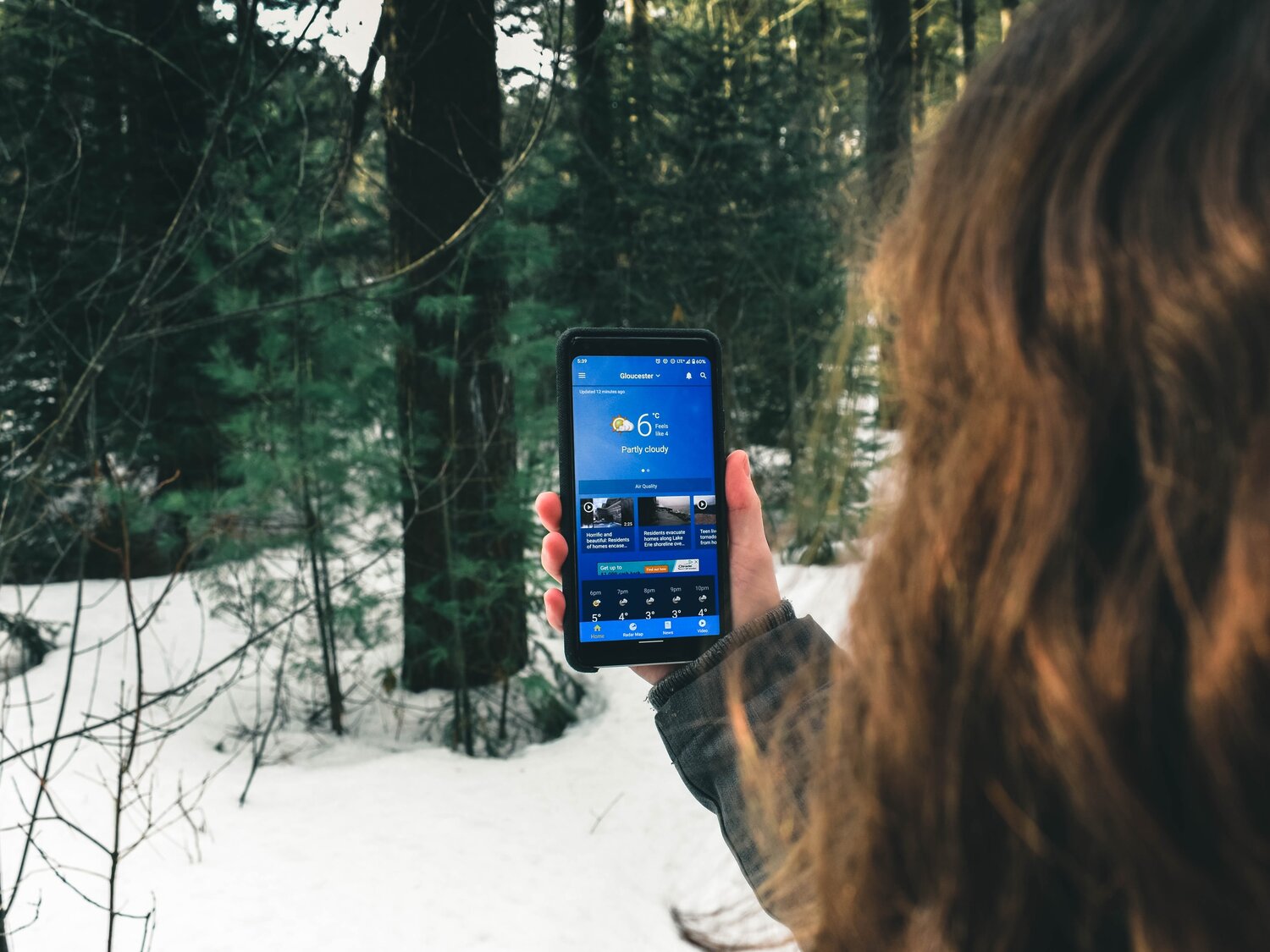 Camping in the winter months doesn't come without risk. Think ahead and evaluate your potential risk, including keeping a close eye on the weather in your destination.
If you're headed to the mountains or higher elevations, consider how that will impact the weather and your readiness for it. If snow or storms are in the forecast, be sure to plan and prepare accordingly.
Download apps that will help you track weather and road conditions, such as the NOAA (National Oceanic and Atmospheric Administration) weather app and apps by the department of transportation in the state where you're traveling.
Be aware of possible road closures, chain requirements, or weather warnings for where you plan to camp. Gather all the information you can so that you can plan your route in the safest way possible.
During the winter, always pack and plan for the worst-case weather scenario. That means bringing extra layers and cold weather gear to keep yourself warm, along with plenty of food and water, a source of heat, and a way to call for help if needed.
SMART WINTER DRIVING
Road conditions in the winter can include lots of ice and snow, which might be new for you depending on where you live.
Be sure to educate yourself on some basics about driving in winter conditions, especially when driving a rental vehicle that you're not familiar with!
Winter can turn any road into an off-road situation pretty quickly. This is when you'll want 4-wheel drive (like on our Jeep campers) so you don't have to worry as much about sliding or losing traction on snow or ice.
You may also run into roads that are closed to vehicles without either 4-wheel drive or snow chains. For vehicles without 4-wheel drive (like our campervans or compact RVs, it's wise to carry chains on board when traveling in the winter, especially in the mountains. Chains help your tires gain more traction in slippery conditions, ensuring that your momentum continues forward when driving uphill.
Winter tires are also an important consideration. While 4WD will help get you going, it doesn't necessarily help you stop or turn. Tires specifically designed for winter conditions can do just that.
If you're camped somewhere overnight and it dumps snow all night, you might find yourself snowed in when you wake up. In this case, having a shovel on board to help you literally dig yourself out of trouble can come in very handy. A push broom can also help sweep away any snow built up on top of your vehicle.
What if you get really really stuck, pop a tire, or have a vehicle breakdown? While we make sure our vehicles are always in top condition, sometimes things go wrong and you just need help. 
WINTER ADVENTURING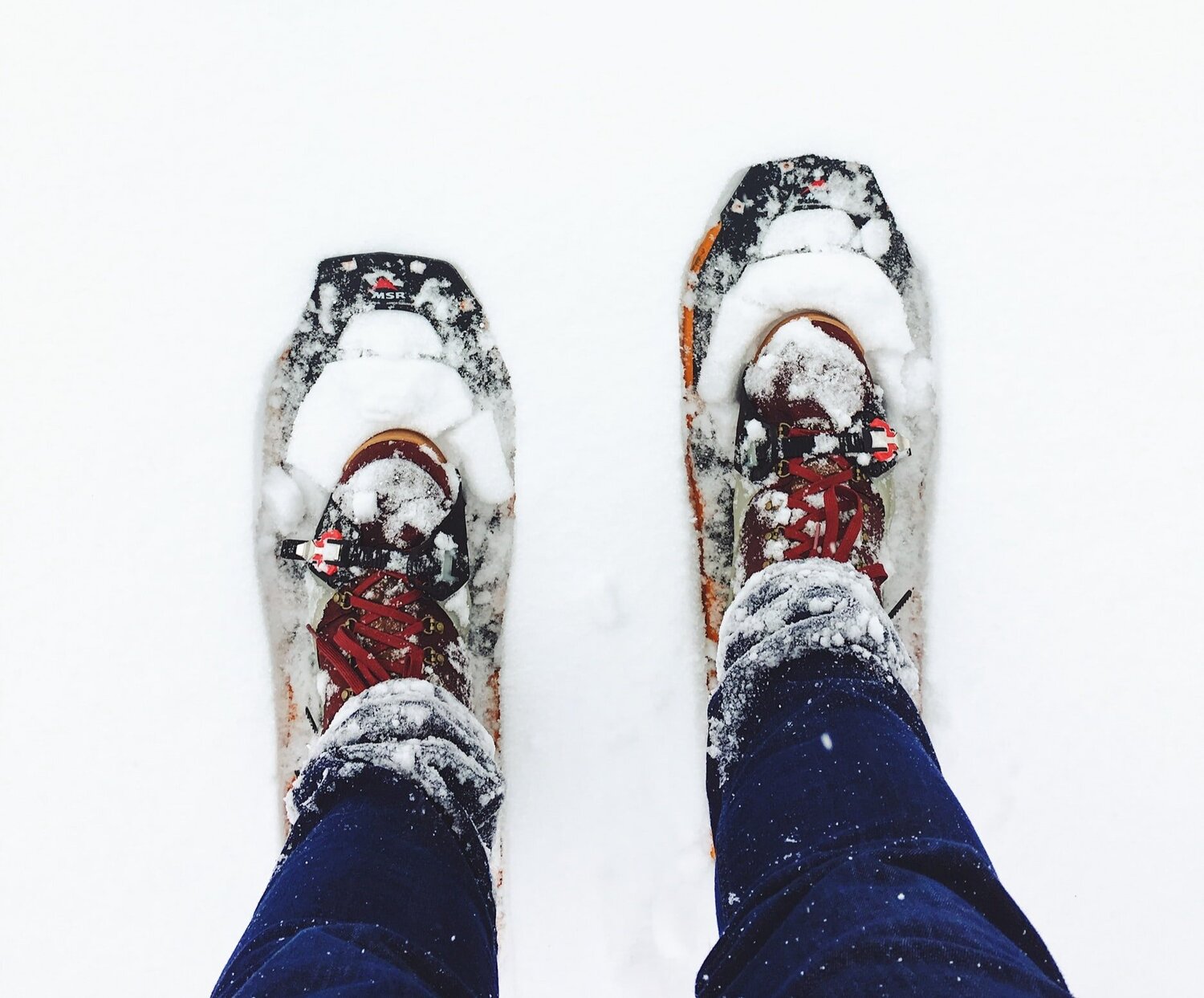 Some of the equipment you might bring along for a fun winter adventure can double as helpful survival tools in a pinch,
For example, snowshoes are great for hiking the trails in winter, but could also help you cover some ground safely and quickly in the snow. Walking poles can also help you navigate deep snow, test ice stability, or measure snow depth. In extreme cases, they could also be used to fend off wild animals.
Crampons or micro spikes for your shoes can also help winter hikers from slipping on snow or ice. Microspikes are compact and easy to bring with you on a trail with an elevation gain that may not start off in the snow. 
It's always best to be prepared for snowy or icy conditions in the winter months, especially if your adventure involves mountainous terrain and elevation gain.
You may not think about hydration much when you're not sweating in the summer heat. But staying hydrated is equally as important in the winter.
Always be sure to carry plenty of water with you, both in your vehicle and if you venture out for winter activities like snowshoeing, hiking, backcountry skiing, or snowmobiling.
In winter months, most campervans and RV rental companies "winterize" their vehicles, which means that the water tanks are drained and filled with antifreeze to prevent the plumbing from freezing and damage at cold temperatures. That means you won't be able to use the onboard sink, shower, or toilet. 
You'll need to bring along bottled water to brush your teeth, freshen up, cook, and drink.
You may have to trade a few creature comforts for the added adventure of camping in the colder months, but we think you'll find the trade-off is well worth it!
BRING AN EMERGENCY SURVIVAL KIT
Be prepared for potential emergencies with a winter survival kit. As we said earlier, the most important survival elements are shelter, water, food, warmth, and communication.
WATER
Tackle the water situation by packing extra water for your trip, and consider an additional water source such as boiling snow or bringing a water purifying device, such as a LifeStraw.
FOOD
Pack extra propane canisters for your camping stove, as these may drain quicker in cold weather (look for canisters that are marked as four-season).
Your stove will also help you cover warmth and food needs, as it can provide hot water for tea, soup, food, or filling a hot water bottle to keep in your sleeping bag.
Your emergency kit should also include some emergency survival foods that have a long shelf life, won't freeze, and are calorie-dense to keep you fueled.
You can pick up some dehydrated meals from our local friends at Backpacker's Pantry at our rental depot in Denver before you head out.
WARMTH
Compact emergency blankets are easy to store on board and can provide additional warmth when needed.
Heat packs are great to have in your kit so that you can keep your hands and feet warm when spending prolonged amounts of time exposed to the cold.
You can purchase disposable heat packs at most outdoor stores, or you can buy a refillable one like the 12-hour refillable hand warmer we recommend in our roundup of winter camping gear.
Keep them in your pockets or tuck them into your gloves or boots.
Would you be able to start a fire in the wilderness? A fire starter is an excellent addition to your emergency kit, and will help start a fire for warmth, cooking and scaring off wildlife even in wetter conditions.
COMMUNICATION
What if you are somewhere with no cell phone service? Having an emergency beacon can help with your peace of mind and ensure you can be located even if you're out of cell phone range.
Light sources like flashlights, headlamps, and lanterns are also necessary for winter conditions when the days get shorter.
Overland Discovery vehicles come with a basic first aid kit that can be helpful in emergencies.
We also offer a portable power pack to ensure that your devices stay charged when off-grid.
Batteries tend to drain faster in cold temperatures, so backup power sources are an important consideration. See more of thegear we offer here.
STAYING WARM DURING WINTER CAMPING
The first step to keeping yourself warm when adventuring in the outdoors is to wear the proper gear.
WHAT TO WEAR
Start with base layers — also known as long underwear — preferably made from merino wool.
Wool base layers help maintain your body heat. Plus, they're naturally antimicrobial, which is handy since you will likely need to wear them multiple times on your cold-weather adventure.
Insulate yourself with a down vest or jacket, and top it off with a waterproof layer that will keep you dry.
Keep your hands warm with gloves and your feet toasty with heavy wool socks and waterproof boots.
Bringing a good beanie to keep your head warm is also vital. We like wool beanies lined with soft fleece, so you get the benefits of the warmth without any itchiness on your forehead.
WHAT TO EAT
Stay warm all day by drinking hot liquids and eating warm food.
Coffee, tea, and soup will keep your body warm from the inside out.
Use stay-hot thermoses so that your food and drink stays hot despite the cold air temperature.
HOW TO KEEP YOUR BED WARM
Consider a sleeping bag that is rated for 0-degree temperatures for maximum warmth. 

Hot water bottles are both a necessity and a luxury. Fill a hot water bottle with near-boiling water and place it in your sleeping bag or bed 15 minutes before going to bed. You will be treated to a warm and cozy place to rest for the night, instead of the shock of cold bedding.
Turn on the heat in your camper van or the furnace in your compact RV for some additional heat on those extra cold nights.
STAY SAFE OUT THERE (AND HAVE FUN)!
When you're prepared for inclement weather and roadside emergencies, you can enjoy outdoor adventures all winter long.
Enjoy less crowded campsites and trails, and the freedom of traveling with your own shelter, food, and emergency supplies.
Camping in the winter isn't without risks, but with planning, preparation, and the right gear, you can have an unforgettable trip at any time of year.
For more tips on enjoying the outdoors in the winter, check out our roundup of 10 genius hacks for cold weather camping >