With the holidays right around the corner, it's time to start thinking about what you'll be gifting to your loved ones this year.
The events of 2020 have inspired more Americans to explore our beautiful outdoor spaces than ever before. And it seems like outdoor adventure gear is at the tops of everyone's wish lists this year.
If you love the outdoors, you know that buying a gift for an outdoorsy person can sometimes be tough. Your friends might already have so much gear, it's hard to pick a gift they actually need (and will use). And let's be honest, the world of outdoor gear isn't exactly welcoming to newbies and people who don't eat, sleep, and breathe camping.
That's why we're here to help. After years of running an outdoor adventure business and even more years spent camping, hiking, biking, skiing and more, we've tested and learned a lot about outdoor gear.
Whether you're shopping for a nature novice or a veteran outdoorsman, we've got you covered for the perfect gift. No matter your budget, you'll find something in our gift guide that will delight and inspire all of the outdoorsy people in your life.
Here are our favorite outdoor gifts for 2020. Hopefully, they'll become favorites for your outdoorsy friends and family members too!
GIFTS UNDER $25

LIGHTWEIGHT PACKING CUBES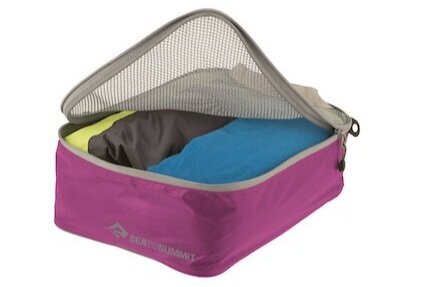 We're big fans of packing cubes! They make staying organized while on a trip a breeze, especially if you're traveling in a campervan and need quick, easy access to your things throughout the day.
Why we love it: These cubes are ultralight and pack flat when empty, meaning they won't add extra weight to your already stuffed bags. Plus, they can be used to store your dirty laundry when you're traveling, so you don't mix up dirty and clean clothes.
Buy Sea to Summit Traveling Light Garment Mesh Bags for $18+ >
OUTDOOR SKILLS CLASSES FROM THE PROS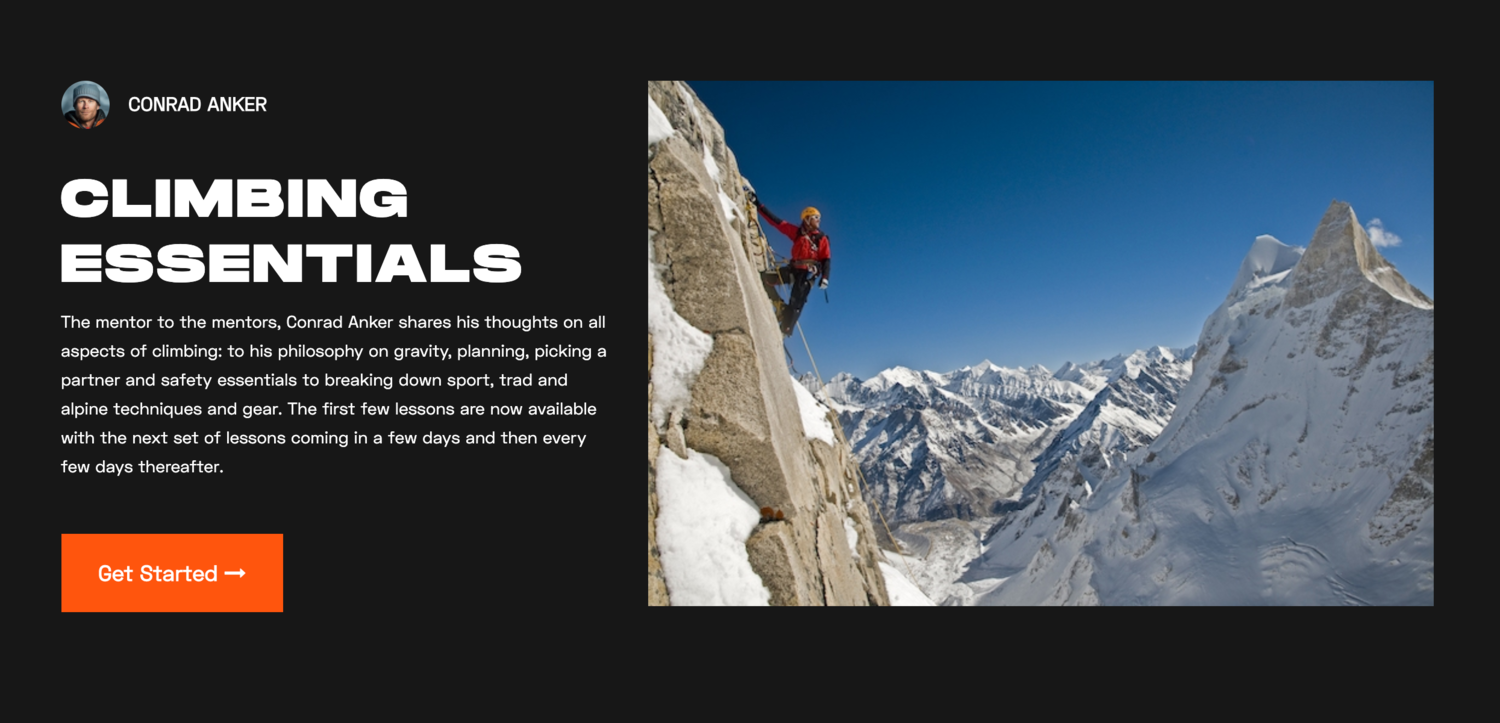 ROAM is a membership program that lets you access classes taught by some of the world's best adventurers and outdoor innovators. It's the perfect gift for anyone in your life who's into exploring, extreme sports, or adventure photography.
Imagine learning climbing essentials from none other than Conrad Anker, without leaving your house! We think that's pretty cool.
Why we love it: ROAM is upgrading their membership to include even more features like live events, a members-only newsletter, and members-only discounts.
Buy ROAM Academy membership for $15/month >
ULTRALIGHT CAMPING TOWEL
These are no ordinary towels. PackTowlsare ultralight, ultra-absorbent, and dry nearly 70% more quickly than normal cotton towels. They're the perfect companion for the avid hiker, camper, traveler, or swimmer. They have 4 different sizes (face, hand, body, beach) and an array of colorful prints to choose from.
Why we love it: These towels are machine washable which means you can just chuck them straight from your pack into the washer after a trip and call it a day.
Buy PackTowl Personal Towel for $10+ >
VERSATILE & STYLISH NECKWARMER
These moisture-wicking neck warmers will keep you warm in the cold and cool in the heat. They also come in a variety of fun prints and are the perfect gift for your friend who's as stylish as they are outdoorsy.
Why we love it: These Skida neckwarmers can be worn as a neckwarmer, a headband, hat, or even as a face mask which makes them a practical and versatile addition to any hiker's pack.
Buy Skida Tour Neckwarmer for $18+ >
NATIONAL PARKS INSPIRED CARDS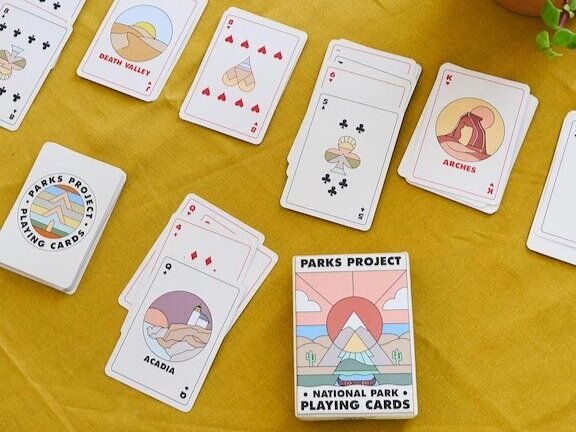 These playing cards from the Parks Project are not only insanely cute, but they also make the perfect stocking stuffer for the outdoor enthusiast in your life.
You can always rely on playing cards to entertain when the cell reception inevitably cuts out as you head into the great outdoors.
Why we love it: Not only are these cards visually stunning but every purchase helps to support the education of youths when it comes to preserving the outdoors.
Buy Parks Project Minimalist National Park Playing Cards for $14 >
GOURMET S'MORES KIT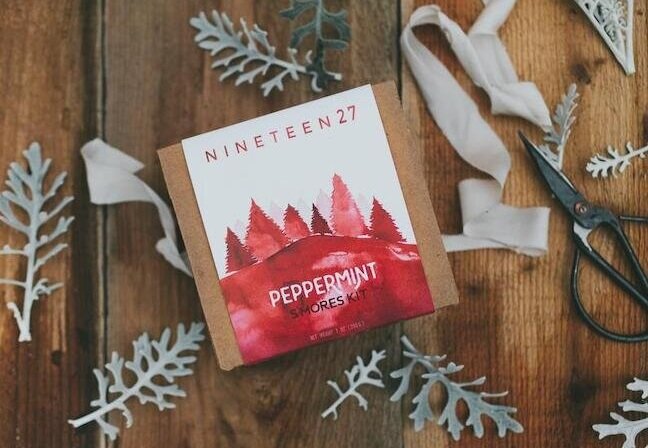 You simply can't go wrong with a roaring fire and some gooey marshmallows. Whether you're at your favorite campsite or just having a special night at home, these artisanal S'mores kits are a delicious addition.
These s'mores kits are filled with flavored marshmallows, handcrafted graham crackers, and bittersweet chocolate.
Why we love it: These kits come in six mouthwatering flavors: Original, Cocoa Espresso, Triple Chocolate, Pumpkin Pie, Peppermint Chocolate and Whiskey Salted Caramel, and are made by a small business in Portland, Oregon.
Buy Nineteen27 Gourmet S'mores Kit for $18 >
COOKBOOK MADE FOR CAMPING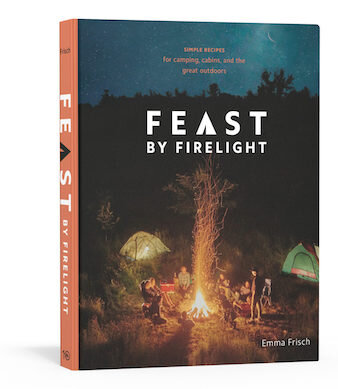 This cookbook is the perfect gift for anyone who wants to be the next master chef of their campsite.
There's more to outdoor cooking than oatmeal and hot dogs. This cookbook will teach you how to prep, pack, and cook delicious feasts that will make everyone at your campsite jealous (and hungry).
Why we love it: This cookbook not only has 70 recipes that are perfect for the outdoors but it also comes with shopping lists, equipment lists, and tips on how to prep beforehand so you can cook smarter, not harder.
Buy Emma Frisch's Feast by Firelight for $22 >
---
GIFTS $25 – $50

ENERGY-EFFICIENT MOOD LIGHTING
For the camper who's all about making their tent or campervan as cozy as possible, these lights are perfect. With 30 ft. to work with, these lights can add ambiance to any campsite or van interior and their LED bulbs make them highly energy efficient.
Why we love it: Purchasing these lights helps to advance Revel Gear's work with various organizations to send energy-efficient LED lights to Africa, where they will replace kerosene lamps, improve education opportunities, and reduce carbon dioxide emissions.
Buy REVEL GEAR Trail Hound 30 ft. Camping Light $25 >
SUBSCRIPTION BOX FOR EXPLORERS
The Cairn monthly subscription box includes 6 full-sized, carefully-curated outdoor products that can include gear, clothing, food, skincare, and more.
This is the perfect gift for the outdoors person in your life who loves to try new things, and is always on the lookout for the latest releases in outdoor gear.
Why we love it: You can include a gift note with the first box and gift subscriptions can be purchased for anywhere between 1 and 12 months.
Buy Cairn monthly Subscription Box for $30/month >
BOTTLE THAT DOUBLES AS A HYDRATION PACK
MODL is a utility bottle like no other. With a collapsible body, filtration system, and multiple mod attachments, this bottle is the perfect sidekick for any hiker, camper, or traveler.
Why we love it: MODL's "mod" attachments let you hydrate hands-free, shower on the go (yes, you heard that right…a shower!), purify water from a stream, rinse off your muddy dog, and more.
Buy MODL Bottle for $40 (MODL Complete for $95) >
FURRY FRIENDS BABY HAT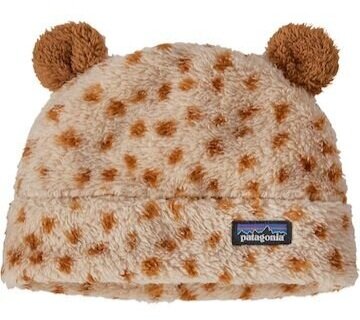 This adorable children's hat with bear ears is the perfect gift for the budding nature enthusiast in your life (or their parents!).
It's never too soon to get kids started on enjoying hikes or trips to national parks, and this double-layer fleece hat is the perfect accessory to keep them warm and cozy while they take in the sights.
Why we love it: This adorable hat comes in four different colors so you'll be able to choose the perfect match for the little one in your life.
Buy Patagonia Baby Furry Friends Hat for $29 >
RENTAL GEAR, DELIVERED ANYWHERE
If you know someone who would love to do more camping or outdoor sports but hasn't had the chance because the gear was too expensive or they didn't have the space to store it, you've officially found the perfect gift for them.
Why we love it: Arrive Outdoors allows them to rent the gear they need, when they need it, and send it all back later. No buyer's remorse or expensive investments.
Buy Arrive Outdoors Gift Card for $50 (rentals start at $2/day) >
PORTABLE SOLAR LANTERN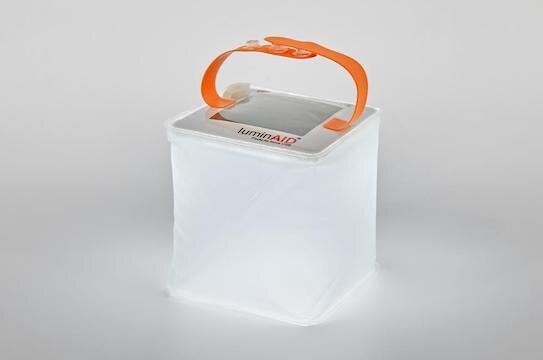 These compact, portable lanterns are powered by the sun, which makes them the perfect gift for your friend who loves to get off-grid.
These lanterns are small enough to fit in a campervan glovebox or a backpack, last for up to 24 hours, and come in three colors.
Why we love it: By shopping with LuminAID, you're supporting a company that works with humanitarian organizations to donate solar lights to families that currently rely on expensive, unsustainable kerosene lamps.
Buy LuminAID Solar Lantern for $25 >
COLORFUL FANNY PACK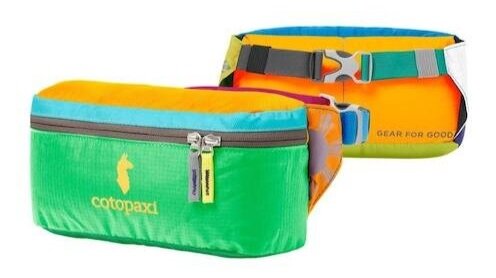 These Del Dia fanny packs are one of a kind — literally. Each bag is made with repurposed fabrics that were leftover from other companies' production runs.
These lightweight 3L bags have two internal mesh pockets that are perfect for stashing phones, money, or the most important item of all: snacks.
Why we love it: They have the option to choose a one-of-a-kind Surprise Pack which will come in a randomly selected assortment of fabric colors.
Buy Cotopaxi Bataan 3L Fanny Pack for $30 >
---
GIFTS $50-$100

WHISKEY TUMBLERS FOR THE BACKCOUNTRY

These stainless steel whiskey tumblers are perfect for your next nightcap around the campfire. With a sturdy metal build and double-walled insulation, these tumblers are made to stand up to the trials of camp life.
Why we love it: Each tumbler set comes with its own soft wool felt case so you can keep everything clean and tidy when you pack them back into your bag at the end of a trip.
Buy High Camp Flasks Firelight Tumbler 2-Pack + Soft Case for $50 >
CUTE & FUNCTIONAL KIDS' BACKPACK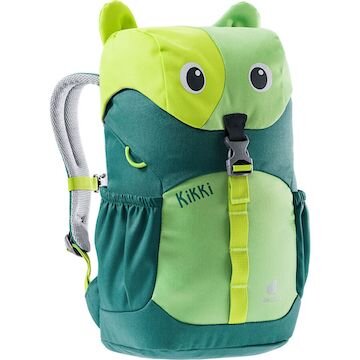 This backpack is the perfect gift for any parent that loves to take their child camping, hiking or traveling.
With a fun stuffed animal style design and lots of compartments, this backpack is a great mix of cute and functional.
Why we love it: This backpack will help to keep kids extra safe with light-reflecting features that help with visibility in dim lighting.
Buy Deuter Kikki 8L Kid's Backpack for $50 >
CAMPSITE DOG HITCH SYSTEM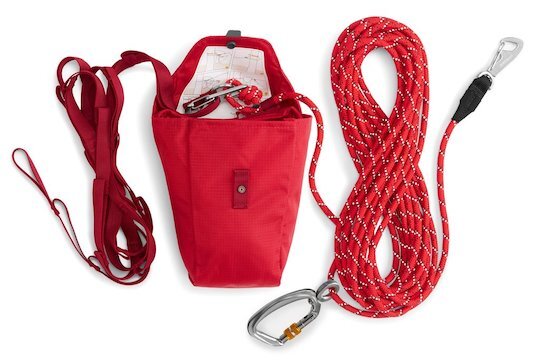 This hitch system was designed with car camping in mind, and uses kernmantle rope to secure your dog safely to your campsite while still allowing them some freedom to roam.
Setting up camp becomes a breeze when your pup is happily secured, and you're free to focus on your to-do list without worrying about their safety.
Why we love it: The Knot-a-Hitch system comes with its very own matching stow bag that's not only stylish but extremely useful because it is all too easy to misplace loose ropes and hardware at a campsite.
Buy Ruffwear Knot-a-Hitch campsite dog-hitching system for $60 >
5-IN-1 OUTDOOR PACK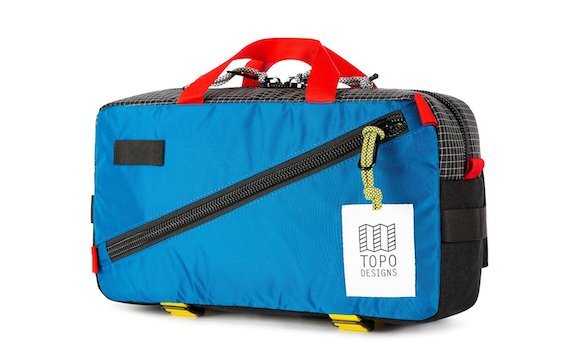 A versatile and stylish pack is a perfect gift for your friend who likes to dabble in all types of outdoor adventure. Topo's Quick Pack can not only be slung over your shoulder or worn around your waist like a fanny pack, but can also be used as a bike pack.
Why we love it: It's not often you find a bag that has so many uses! We love that with one pack (and for less than 70 bucks), you essentially get 5 packs — a satchel, fanny pack, hip pack, backpack, and bike pack!
Buy Topo Designs Quick Pack for $69 >
A YEAR OF NATIONAL PARKS (PASS)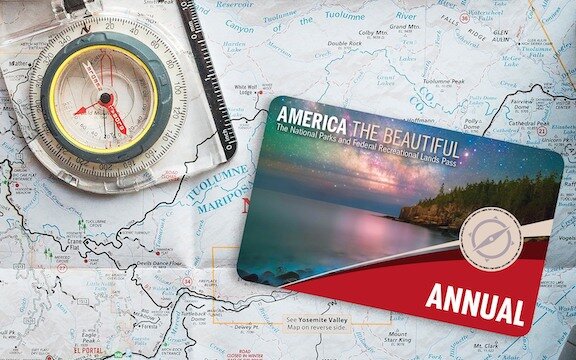 This year-long pass to visit some of America's most beautiful landmarks is truly a spectacular gift for anyone you know who loves the great outdoors. The pass covers their entrance, standard amenity fees, and day-use fees for a driver and all passengers in a personal vehicle.
Why we love it: This pass is valid for over 2,000 federal recreation sites!
Buy America the Beautiful National Parks Pass for $80 >
---
GIFTS $100 AND OVER

MATTRESS MADE FOR CAR CAMPING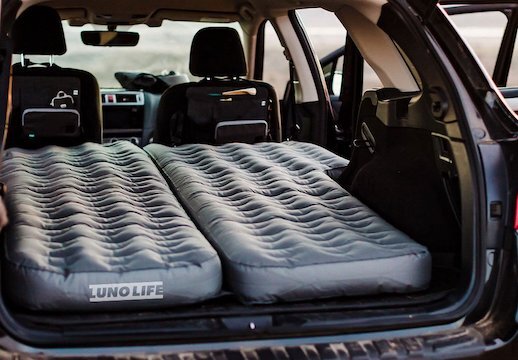 This plush car camping mattress makes overlanding accessible to anyone with an SUV and a thirst for adventure.
The Luno 2.0 Air Mattress fits over 1,800 vehicle types, and comes with its own air pump and carrying case. Each side of the double mattress can be inflated separately to its own desired firmness.
Why we love it: This mattress comes with a 1-year warranty, and is designed to be durable enough to handle your canine companion's sharp claws if they join you on your trip.
Buy Luno Air Mattess 2.0 for $225 >
SKI CARRIER MADE IN THE ROCKIES

This RockyMounts LiftOp carrieris the ultimate gift for the skier or snowboarder in your life.
It fits up to 3 pairs of skis or 2 snowboards, and the 1-touch push button lever makes loading and unloading gear a snap. They'll never have to crank their clamps into place after a long day on the slopes ever again.
Why we love it: First, they're a local Colorado-based company! Second, the rack locks to both your car and your gear, so you can feel free to wander away from the car for some lunch or a coffee without having to worry about the security of your precious cargo.
Buy RockyMounts LiftOp Ski & Snowboard Carrier for $160 >
ELECTRICITY GENERATING WOOD CAMP STOVE
This camp stove uses patented combustion technology to create smokeless flames that can both roast a marshmallow and charge your phone. Forget bulky gas canisters, the BioLite can burn sticks, twigs, and pellets that you can find at your campsite which cuts down on unnecessary weight and space in your pack.
Why we love it: This stove can boil a liter of water in just 4.5 minutes which is great news for your friend that can't function without their morning coffee.
Buy BioLite CampStove 2 for $150 >
ALL-DAY CAPABLE BABY CARRIER
You don't have to stop adventuring when you have kiddos! Start 'em early on loving the outdoors by taking them along on all of your hikes and adventures.
This Osprey child carrier has a solid suspension system that evenly distributes weight for optimal comfort as you ascend to the peak. Other features include an adjustable harness for kids to grow into, a built-in sunshade with UV protection, and an extra-wide base with a locking foot bar for stability.
Why we love it: Alongside the baby on board, this carrier has a roomy 20L storage capacity and 3 pockets, so you can stash all of the baby gear and snacks that you need for a day on the trails.
Buy Osprey Packs Poco Child Carrier for $290 >
AWARD-WINNING WHEELED COOLER
If you've been thinking of gifting your outdoorsy friend a Yeti cooler, think again! RovR's RollR coolers are the "most feature-packed cooler on the market" and is made entirely in the US (in Colorado, as a matter of fact).
This baby comes standard with a dry bin, tote, all-terrain tires, and all sorts of add-ons like a cup holder, cutting board, bike attachment, umbrella holder, and sturdy tote bag to carry extra food.
Why we love it: This powerful cooler can truly go anywhere you can. Whether you're biking to the beach or want to carry an extra dry bin of food atop your cooler, the RovR is bound to keep up with you and your adventures.
Buy RovR RollR 45 Cooler for $369 >
Winter-Ready Gifts
And if none of our outdoor-inspired holiday gifts caught your eye, why not give a gift they can use right away! Check out our list of basics, luxuries, and oddities that will make your next winter camping trip warm, cozy, and a ton of fun- The Best Cold-Weather Camping Gear You'll Need This Winter >